Plugin Supershape
Installation
After downloading the plugin, simple copy the file supershape.hxt in to the HXT directory your A:M installation .
The plugin is only just for fun , and therefor raises far no claim to completness or accuracy, however it is freeware .
Description
With this plugin you can build a shape with 4 parameters based on the "Superformula" . More information about this formula , calculation, the parameters you can found on the site from Paul Bourke (english) or here Heise online (german) .But more interested is to play with the parameter .

Usage
The plugin is started with RMB->Plug-ins->Wizards->Supershape in a modellingwindow or with selected "Objects" in the pws .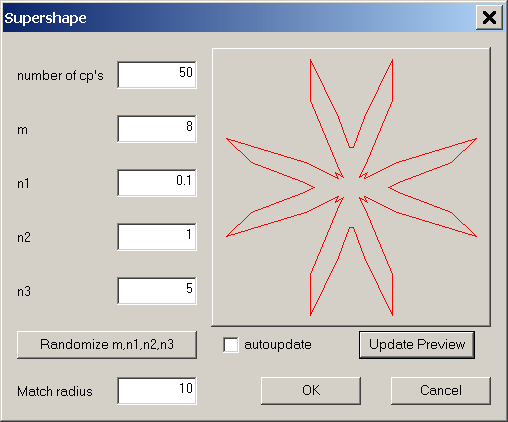 | | |
| --- | --- |
| Inputfield/button | Description |
| number of cp's | The number of cp's they should be created. In dependence from this , the appearance of the created shapes is changed.(look at this example) . In the preview , you see only a abstracted shape, which is not the same then in A:M , because for the preview I use linearsegment instead of splines. |
| m | The first parameter for the formula. Meaningful values lie between 0.1 and 20 , but also higher or lower values are possible. |
| n1 | The second parameter for the formula. Meaningful values lie between 0.1 and 100 , but also higher or lower values are possible. |
| n2 | The third parameter for the formula. Meaningful values lie between 0.1 and 100 , but also higher or lower values are possible. |
| n3 | The fourth parameter for the formula. Meaningful values lie between 0.1 and 100 , but also higher or lower values are possible. |
| Randomize m,n1,n2,n3 | With this button you can create randomized values for the formula. The result you can see in the preview . |
| autoupdate | If this checkbox is activated , the preview is updated automatically, when you change a parameter. |
| Update Preview | With this button , you can update the preview by hand . It's only needed , if you have a slow machine, where autoupdate takes to many time. Only avaible if autoupdate is not checked. |
| Match radius | Hereby one specifies, on which radius the produced model is to be scaled. I.e. no point of the model will lie outside of this radius. |
| OK | End the plugin and create the model/shape. |
| Cancel | Cancel the plugin and return to A:M without any other action . |
Under some circumstands , you can get a preview , looks like the next picture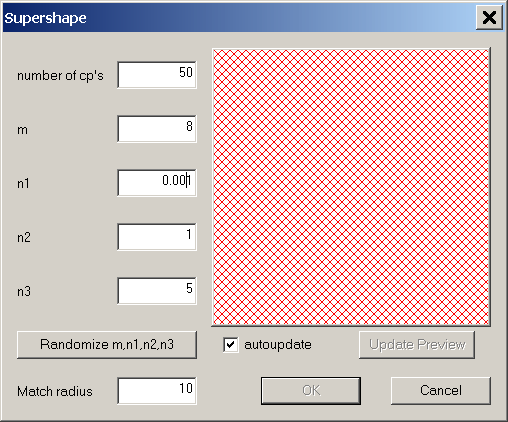 This means , that too large or small values are calculated , which cannot be scaled any longer reasonably. Then is also the OK button deactivated . Remedy creates here a parameter of the formula to decrease/increase (in this example, increase n1 to 0.1)

Here a overview, as the number of cp's affects the appearance of the preview and the model (m = 8, n1 = 0.1, n2 = 1,n3 = 5), in the first column is the number of cp's used
Description

History
Index
To the pluginindex