Plugin Smooth
Installation
After downloading the plugin , simple copy the file smooth.hxt into the HXT directory your desired A:M installation . The plugin was originally designed as a working relief for me, and therefor raises far no claim to completeness or accuracy, however it is freeware .

Description
This plugin is designed to smooth splines . To do this for, each spline to helpsplines are calculated (see also the picture).


It can be used for a single spline ,but also for a group of splines.
Usage
To start this plugin it is nessecary , that you select a named group (temporaly groups are not working) in the pws . Then start the plugin with RMB->Plug-ins->Wizards->Smooth .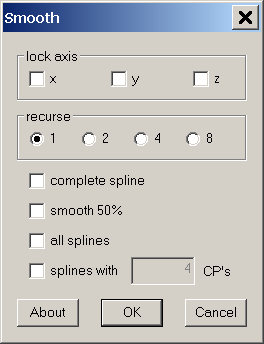 Lock single axis

You can lock single axis, that means, the cp's will not move it in this axis . Only 2 axis can be locked at the same time .


Recursion

With this option you can select , how often the same spline will be smoothed with the described way . Look at the example .




If this checkbox activated, the spline will smoothed only the half of recurse 1 . Look at picture above. It is only avaible if recurse = 1.



If this checkbox activated , the plugin does the operation for the complete spline, where the selected cp's lie's . Otherwise only the selected cp's on the spline are smoothed . But there must be 4 or more cp's on the same spline selected.



Only avaible if cp's on different splines selected..
In conjunction with the next option , it steers , what the plugin should do.


| | | |
| --- | --- | --- |
| all splines | splines with | Result |
| not checked | not checked | only the spline with the most selected cp's are smoothed |
| checked | not checked | only selected cp's on all splines are smoothed , if less than 4 cp's at one spline selected , the complet spline is smoothed |
| not checked | checked | only splines with at least number cp's in the inputfield will be smoothed |



Only avaible if cp's on different splines are selected.
Only splines smoothed with at least number of cp's.

Reference
- If you work with selected cp's (complete spline not checked), only the segment (or more segments) , with a minimum of 4 sequenced cp's are smoothed .
Example
at one spline are in the

same

selected group
(g1) CP1,CP2,CP3,CP4
(g2) CP6,CP7
(g3) CP10,CP11,CP12,CP13,CP14
only the segment g1 and g3 smoothed , both however separately treats.


Here a example , how the curvature are changed, in dependence with the number of recursions . (Projectfile )

History
Version 0.1
Version 0.2
Version 0.3

bug at working with selections fixed (JackMcRip)

Version 0.4
Version 0.5

bug with recursion fixed (recursion > 2 had nothing effect)

sample for recursion added
Index
To the pluginindex