Plugin Calcsurface
General
After downloading the plugin , simple copy the file Calcsurface.hxt into the HXT directory your A:M installation .
The plugin was originally designed as a working relief for me , and therefor raises far no claim to completness or accuracy, however it is freeware .
Description
With this plugin it is easy to compute the "sample area" for radiosity renders, based on the formula that Yves had provided in the "The cornell box tutorial" thread at the hash webforum .
Use
From the choreographie you can start the plugin with RMB->Plugins->Wizards->Calcsurface.
After starting the plugin, it can take some time before you will see this UI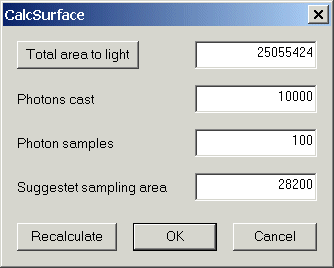 If you set the "Active" property for a model to "Off", it will be not included in the calculation.
The surface is at this point already calculated, and you see the suggestion for the "sample area" . The entryfields Photon cast and Photon samples getting their values from the chor settings . You can change their value here also,and the new values will be stored in the chor when you exit the plugin with OK . After changing any value hit Recalculate to get a correct result for the sampling area .
When you hit the button "Total area to light" you get a detailed overview for the surface from each model in the chor, like the next picture.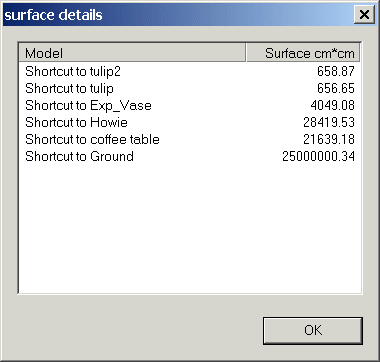 History
Version 0.1
Version 0.1b

correct some minor bugs
add detailed overview for models

Version 0.3

setting the property "Active" for a model to "Off" will exclude this model from the surfacecalculation
not longer needed to start the plugin from the frontview
the scaling for a model in the chor now also respected
To the index
To the pluginindex